Well, not quite. We hit 99 degrees officially on Monday, and that tied the record for the day. (Nevermind at least three weather apps I use said we hit 102, pshht.) August is normally pretty hot (though not the triple-H hazy, hot, and humid of my childhood in Virginia) and unsettled, and that's a little bit of how I feel.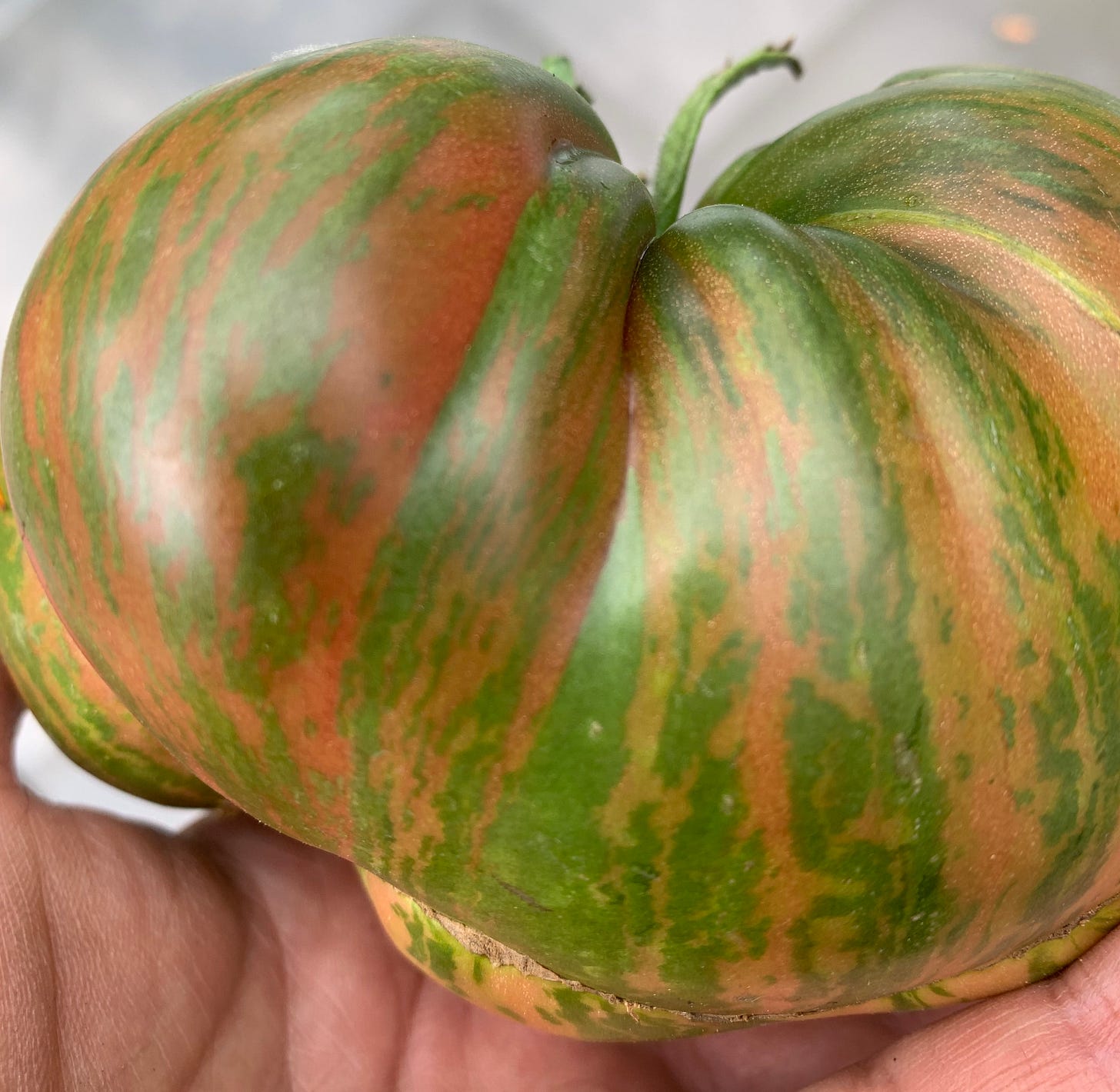 Look at this beaut! A Berkeley Tie Dye heirloom tomato from the garden.
Every time there's a storm in the forecast, I eye the garden and calculate how fast I could bring in all the green tomatoes from the vines to save them. Last year this time we got the first of two major hail storms and by the end of it, the garden looked like it had been put through a blender (or Salad Shooter, if you will). Keep your fingers crossed for the produce.
---
What Went Wrong?
I know I haven't sent you all a note in a while, and honestly the garden has just been chugging along, with a few weird stumbles along the way. Stumbles, failures, lessons learned, whatever you call them, they were things that didn't quite work this year, for whatever reason. Here's a breakdown:
Potato famine: The potatoes grew great greens, and I thought everything was fine. When I went to harvest them, however, we got only a handful of small potatoes. Nothing was bigger than a golf ball. We didn't even eat any. Issue? I think the grow bags were OK, but their location on the driveway got too hot and dried out the soil too fast, despite regular watering. I'll probably try again next year but put them in the garden area on top of mulch, or use part of a bed like I have in the past.

Rotten onions: I'm not sure if it was the curing process (leaving them out of the soil for 2-3 sunny days) or one night of a quick shower, but almost all of these lovely onions had a sad side and were rotten. The few that were OK tasted amazing, which is bittersweet, for sure. Solution: Possibly just curing in the garage instead of dealing with rain. We also planted late since it was hard to find onion sets this year due to demand. The year before, onions were one of my best crops, and they lasted in the fruit room downstairs almost till summer again, so I know I can produce them OK. I'm also working more compost into the soil of that bed I typically use. It may be depleted.

Missed first harvest window: I didn't get to eat the first ripe tomatoes on our heirloom plants, but the grasshoppers sure did! They took some big chomps out of the big ripe tomatoes on the inside of the cage. I've since started dosing with diatomaceous earth to gum up their works and it seems to be working. I'm also stalking ripening tomatoes and pulling them as soon as I can.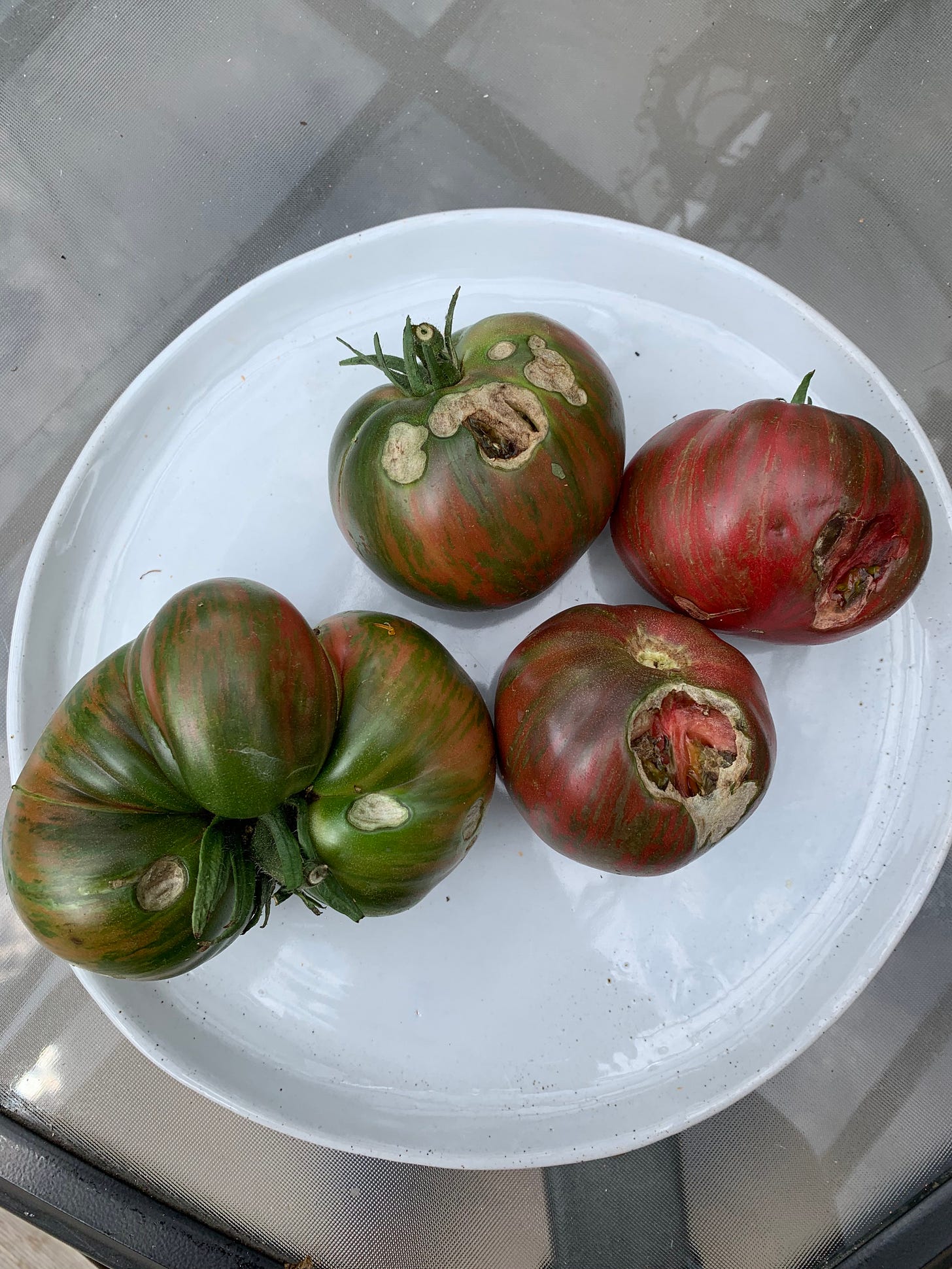 Too many peas! I've never had peas come in so well! I think I'll divide the crops better next year (we were all worn out by the shelling peas before the sugar snaps even started to come in). But if we have another mild spring, I'll definitely get peas in the ground early.

---

Commercial songs I never want to hear again:

Five Dollar Foot Long

This dang "1, 2, 3, 4" jingle for Facebook group chat or whatever.

Anything involving Sarah MacLachlan's "Wings of an Angel"

The jingle for local siding company Lynnrich, which sounds like a bad Nashville sound ripoff
---
What Should I Talk About Next Newsletter?
Worm composting in my basement

Amending garden soil in the fall

Seed saving

Bugs that were jerks, and some that were cool this year
Let me know in the comments!